---
The Smart Choice for Promotional Marketing
History of gator garb promotions
Promoting Your Business, Is Our Business.
Gator Garb was started in 1997 by founder, Fred Stark, on an idea of selling apparel to bars, restaurants, and corporations around the Chippewa Valley. With the help of an artist, a product specialist, and an accountant, he built a team that could provide quality products from day one.

The name Gator Garb was from a brand that Fred created while the Packers were making a run at the Super Bowl in 1997. The brand was called "I'm a Green Bay Tailgator." The logo was of a Gator wearing a cheesehead, hiking boots, holding a beer in one hand, and a brat in the other. The line was bought by multiple retailers and with that Gator Garb Apparel and Specialties was created.

The company was built on the aspect of always being unique by providing something to our clients that they haven't seen before, while always creating the best customer experience for each project.

Gator Garb is proud to support and provide creative and quality products to some of the most noted companies in the US. It is the company's mission to be passionate about what we do for our clients and always seeking to provide unique products at the most competitive price.

In 2013, GGP joined a buying group called The Facilis Group. Technology, Community, and Supply Chain were the big game changers in becoming a part of this. This improved processes, allowed for better pricing structures, and gave us a new direction in the ever-changing promotional industry.

As of 2018, Gator Garb is still a family owned business now led by son, Cole Stark. We have been and always will operate with a team approach to best serve our clients.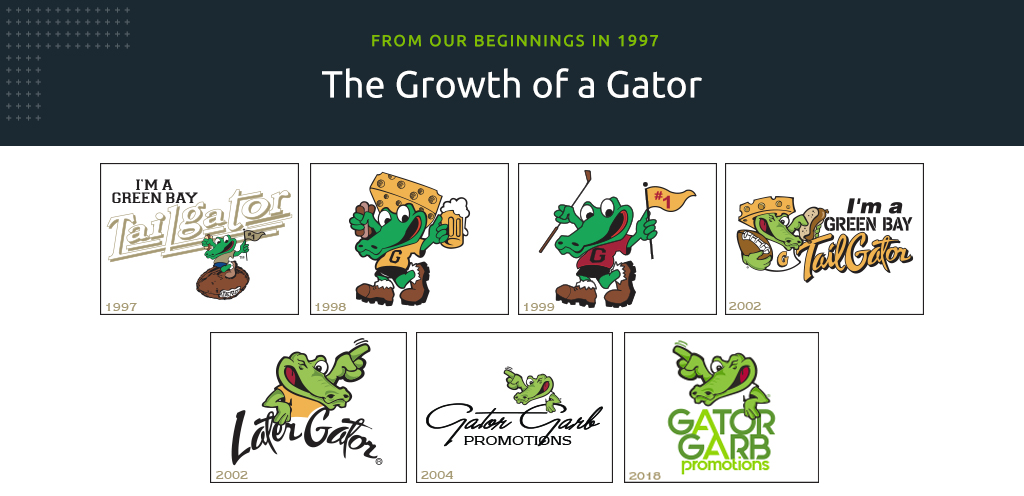 About Gator Garb Promotions
Gator Garb is a small team. We have experienced sales reps, talented graphic designers, and a fun customer service team who are passionate about the company. While we continue to grow and are always looking for talented people to join us, our goal is not to be the largest, but to be the best at what we do.

Today, Gator Garb Promotions is located in Altoona, WI. With 13 employees and a client base over 2,000 clients, Gator Garb has become the area's number one choice for branded apparel, unique promotional items, custom headwear, and company stores.